A political boost at home now, maybe a German atop the European Central Bank later.
By Leonid Bershidsky


May 23, 2017, 1:30 PM GMT+7
---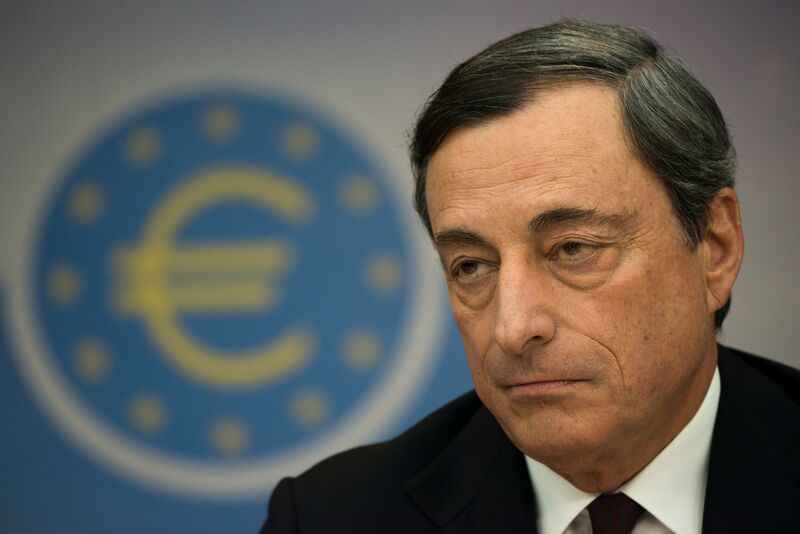 Draghi's detractors.
Photographer: Horacio Villalobos/Corbis via Getty Images


For a long time, German Chancellor Angela Merkel made a point of not disagreeing publicly with European Central Bank President Mario Draghi. This year, however, that tradition is broken, and Merkel appears interested in making sure Draghi's successor is more acceptable to Germany, perhaps even a German.

On Monday, for the second time this year, the chancellor blamed the ECB for the euro being "too weak" for Germany. She first made such remarks in February in response to U.S. accusations that Germany was using the week euro to gain an unfair competitive advantage. Since then, the threat that the Trump administration might crack down on German and, in general, European imports hasn't receded, and Germany's election has drawn closer.

The undervalued euro may boost German exports and help the country's economy do better than most neighbors, but it's an electoral problem for Merkel's party, which represents the country's large saver class. Savers hate near-zero interest rates, which have kept the euro down. While Merkel's criticism for Draghi may sound muted, her allies have spoken out much more forcefully. Transport Minister Alexander Dobrindt once branded the Italian a "money forger," while Finance Minister Wolfgang Schaeuble, Merkel's rock of support in the Christian Democratic Union party, has blamed Draghi for the rise of the populist Alternative for Germany party (and indeed, the AfD has used the ECB's loose monetary policy as its top argument against euro membership).

Merkel has found that she needs to hew closer to the CDU's traditional conservative line if she wants to win in September and keep the AfD down, so, in her reserved way, she, too, is now voicing her irritation.

But Merkel's sights are set on another prize as well: the ECB after Draghi. In its latest issue, the weekly newsmagazine Der Spiegel, known for accuracy in reporting on the German government, said Merkel and Schaeuble were pushing to make Jens Weidmann, head of the German central bank, Draghi's successor.

To anyone but a German that sounds like a goofy proposition. Weidmann is notorious as Draghi's incessant minority critic on the ECB's governing council. Under him, the Bundesbank takes an extremely dim view of the ECB's government bond buying program, arguing that it improperly mixes monetary and financial policy. So Weidmann has opposed the program from the start, constantly getting outvoted and stubbornly repelling Draghi's attempts to convince him in both formal and informal settings ("Surely no one expected that a glass of wine or a bag of chips would change my opinion," Weidmann said dryly in a recent interview). To southern Europeans, Weidmann is something of a cartoon German, with a boring disciplinarian's narrow view of a central bank's functions, no flexibility and no sense of humor. That he keeps hammering on his favorite nail after being repeatedly outvoted only strengthens that image, though to Weidmann, it's merely a sign of conviction.

When Draghi's term ends in October 2019, his successor will be chosen by a qualified majority of the Council of the European Union, which includes the leaders of member states. That means 55 percent of the member countries, with at least 65 percent of the EU's total population, must back a candidate. Without southern European countries and France, Weidmann's ascension seems hardly a possibility. France is reportedly pushing its central bank governor, Francois Villeroy de Galhau, for the job.

Germany, however, does have a strong claim on the next holder of the ECB presidency. The three men who have held the job so far hailed from the Netherlands, France and Italy -- and, after all, it's Germany that has the biggest share in the ECB's capital, almost 18 percent to France's 14 percent. Symbolically as well as on a practical level, Germany is the most invested of any country in the common European currency. Germans will never accept that they create problems for the euro; they see themselves as its strongest pillar of support.

Asked in a recent interview
whether it was impossible for a German to become head of the ECB in the future -- a view shared by many outside Germany -- Weidmann acted incredulous:


You mean that would then be the only top job in Europe close to people of a specific nationality? No, seriously, the ECB president should be picked for his qualifications and not his nationality.



With more than two years remaining of Draghi's tenure, Weidmann won't even discuss whether he'd like the job, saying it would be unfair to the current president. Merkel and her allies, however, clearly don't feel it's too early to start the discussion. They are making their stand clear before the election, as well as communicating to trade partners what, in their view, would need to be done to cut Germany's current account surplus. Besides, if southern Europeans are ever to warm to to the idea of a German ECB president, it makes sense to shock them early with a hawkish candidate like Weidmann and then, when the succession discussions begin in earnest, suggest more of a compromise figure, perhaps not even a German but a like-minded central banker from another northern European country.

The euro leaped up against the U.S. dollar after Merkel said it was too weak. But the German political statements and maneuvers don't put much pressure on Draghi. In April, the ECB again ignored German objections to its bond buying and negative deposit rate. He runs no political risk if this happens again in June. Weidmann, however, is helping Merkel politically by keeping up his criticism, and she's helping him by strengthening his case. It's a cozy arrangement; expect to hear more German invective against Dragi and more speculation that Merkel might be more forceful than usual in trying to push through a German successor for him.